Canton Wrongful Death Lawyers
Helping You Recover After Losing a Loved One
At Hasty Pope Davies, LLP, we understand that the death of a loved one is an extremely trying and difficult time for you and your family. Individuals who have lost a family member as the result of someone else's preventable and negligent actions deserve financial compensation for their loss. Although money cannot undo the tragedy, financial compensation is the only way civil law can recognize the value of the victim's life, compensate for the death and subsequent losses, and penalize the party or parties at fault.
Compensation can help your family survive financially, especially if you depended on the deceased for financial needs. Our compassionate Canton wrongful death attorneys are committed to helping you. Hasty Pope Davies, LLP can concentrate on the complicated legal matters that often arise in wrongful death cases so you and your family can continue the mourning process and move on with your lives.
130+ Years of Combined Experience Fighting for You
Guiding You through this Complex Legal Endeavor
When seeking a Canton wrongful death attorney to represent your family, be sure to find one who has experience handling cases similar to yours. At Hasty Pope Davies, LLP, our lawyers have handled an extensive variety of wrongful death cases.
We can help you if your case involves:
Our experienced Canton wrongful death lawyers understand the criteria that must be met in order to file a lawsuit. Most importantly, the deceased must have been killed as the result of another party's negligence and recklessness.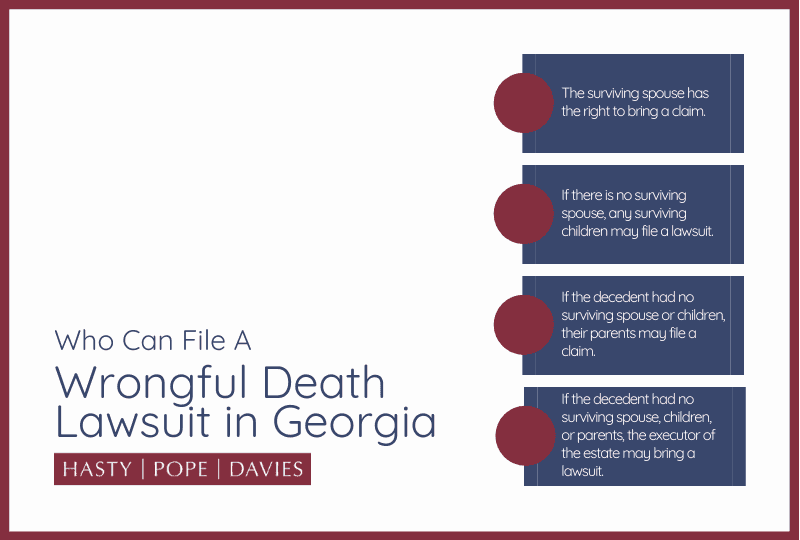 What is Needed to Prove Wrongful Death?
To prove that your loved one was a victim of wrongful death, your case must be able to demonstrate the following:
The liable party owed your loved one a duty of care
The defendant was negligent by breaching that duty
Your loved one died as a result of this breach of duty
You suffered losses due to their death
Proving the other party's liability is difficult and you should not need to deal with alone. Get the help of experienced wrongful death attorneys near you to handle the details of your claim.
Damages That Can Be Won in a Wrongful Death Case
Hasty Pope Davies, LLP wants to help you begin the healing process by aggressively pursuing just and fair restitution for your tragedy. We have the experience and skills to mount a successful wrongful death lawsuit.
Our law firm can help you obtain the monetary damages for:
Funeral costs
Loss of income
Pain and suffering
This compensation can help you manage the many expenses you face after the death of a loved one and provide the financial security you need to move on.
A Powerful Statute on Your Side
Georgia's wrongful death statute is one of the best in the United States. In Georgia, the measure of damages for wrongful death includes those that are both tangible and intangible. The state also does not impose a statutory formula or arbitrary limit on the damages awarded in a wrongful death case.
Our Canton wrongful death attorneys can use Georgia's statute to your advantage and develop an effective legal strategy on your behalf. We take matters into our own hands so that you and your family can continue the mourning process with as little distraction as possible.
Expectations Exceeded - Brian and Sheryl

Simply the best - Christine Chester

Quality representation by intelligent and honorable legal team - Former Client

Absolutely satisfied with the way were treated - Michael Smith

Top notch service - Nicole Smith
$9,000,000 Wrongful Death

Settlement of $9 million in September of 2019. This was for the family of a 20-year-old man struck and killed by a driver who crossed the centerline in Cherokee County, Georgia on May 18, 2018.

$6,000,000 Truck Accident

A tractor-trailer lost control and struck two motorcyclists, both suffered catastrophic injuries.

$5,000,000 Rear-End Accident

A female client was rear-ended at a high rate of speed in Fannin County, Georgia, a county in North Georgia. The negligent driver was following too closely and failed to maintain control of her vehicle.

$2,800,000 Dental Malpractice

A woman sustained permanent injury to her mouth and teeth as result of dental work performed below the standard of care by a dentist employed by a large corporate dental chain.

$2,500,000 Intersection Collision

A woman suffered multiple injuries including head trauma, multiple rib fractures, and a collapsed left lung when another car ran a red light and struck her vehicle in West Palm Beach, Fla.

$2,000,000 Intersection Collision

Our 76-year-old client, Sara, was on her way home from the salon. She was driving through an intersection on a green light when a young driver turned in front of her.

$1,735,000 Distracted Driving Accident

Our client was struck and killed on I-985 in Hall County, Georgia. Our client had pulled off I-985 to secure his load and was outside all lanes of travel.

$1,700,000 T-Bone Collision

A woman suffered permanent injury to her dominant arm after being involved in a collision at Davis Drive and Mansell Road in Alpharetta, Georgia.

$1,650,000 Accident on MARTA Bus

Our client sustained an injury in an accident in which the wheelchair ramp of a MARTA bus closed on her foot in 2016.

$1,300,000 Rear-End Collision

Our client, a 49 year-old small business owner was on his way home from a job when his life was forever changed - he was rear ended at a high rate of speed by a large construction truck.