Canton Car Accident Attorney
Fighting for Justice after Your Accident
Motor vehicle accidents pose a threat to all drivers. The National Highway and Traffic Safety Administration reports that, on average, someone is killed in America once every 12 minutes as a result of motor vehicle accidents and injured at a rate of nearly 7,400 per day.
If you have been involved in a car accident, you should retain the services of a Canton car accident lawyer. You may be tempted to handle your car accident case on your own, but remember that this decision could cost you in terms of time and money. Experienced car accident lawyers are already familiar with the filing deadlines and rules of procedure regarding car accident litigation, so they are better prepared to position you for success.
Protecting Your Right to Compensation
If someone else's negligence behind the wheel caused your car accident, they need to be held accountable for their actions. You deserve compensation for your damaged property, medical bills, lost earnings, pain, and suffering.
Hasty Pope, LLP can help you seek justice if you were involved in a car accident caused by:
Speeding
Driving under the influence of drugs or alcohol
Tailgating
Unsafe lane changes
Running a red light
Dangerous road conditions
Car accidents where you are the victim often present unique challenges when dealing with insurance coverage, determining fault, and accurately documenting your physical injuries. Our car accident lawyers serving Canton have extensive experience with accident litigation, a proven record of success, and the passion and zeal to fight for your rights. By working with Hasty Pope, LLP, you are in a much better position to receive the justice and fair compensation you deserve.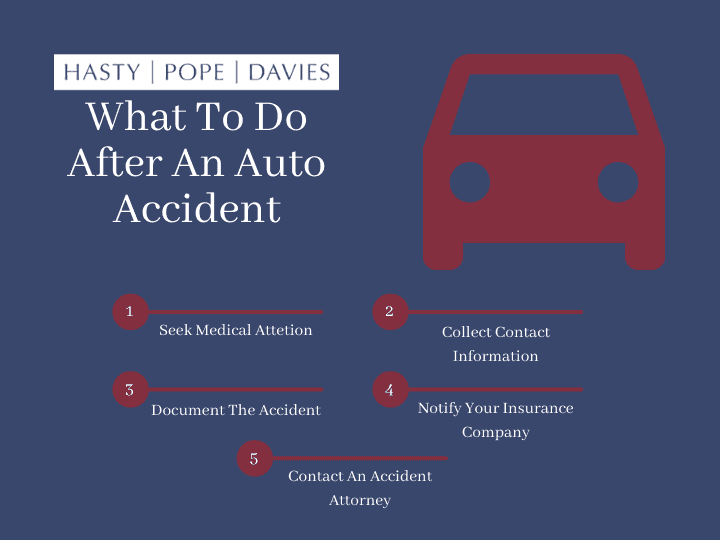 What Do You Do If You Are in a Car Accident?
Whether you were injured in a car crash on GA 400, I-285, or any of Georgia's major highways, streets, or local roads, being involved in a car accident is often a frightening and stressful experience. In the hours, days, and weeks after the car accident, you may be unsure of what to do, especially if you were injured and are now having to deal with costly medical bills. Thankfully, there are certain steps you can take to protect your right to seek fair financial compensation for your damages.
Immediately after the car accident, to the best of your ability, you should:
Seek medical attention. Even if you believe you have only suffered minor injuries or were not injured, you could very well have underlying injuries that you have not yet noticed. Sometimes, it can take hours or even days for the severity of a car accident injury to become apparent. But the sooner you receive professional medical treatment, the better. If you were involved in any serious motor vehicle accident, seek medical attention as soon as possible.
Get the other involved driver's contact information. This should include his or her name, phone number, and insurance information. If you were involved in a hit and run accident or were unable to get the other driver's information for any reason (including if you were severely injured and needed emergency medical attention) contact an attorney at our law firm in Canton as soon as possible. You may still be able to recover compensation, but doing so could be difficult without the help of an experienced legal professional.
Document what happened. Depending on when you are reading this and how long ago the car accident occurred, this could involve anything from taking pictures of the scene of the car accident, your injuries, and your vehicle to speaking to witnesses and taking down their statements to writing down everything that happened while your memory of the accident is still fresh. The sooner you are able to document what happened, the better, as memories can fade and evidence can be lost over time.
Notify your insurance company. Depending on your specific policy, you may be required to notify your insurance provider of the crash within a certain period of time. It's a good idea to know your own policy and whether or not you are required to report the car accident, as well as how long you have to do so.
Contact a car accident attorney. If you are encountering any issues or complexities with your claim—including when your accident injury claim is denied, disputed, devalued, or when there is shared fault for the accident—you will want to work with an experienced Canton car accident lawyer. While this is not a requirement in bringing a claim, those who choose to work with a car accident lawyer will often be able to obtain a far better car accident settlement/outcome than those who don't.
Our car accident lawyers serving Canton are prepared to help you navigate the legal process. Whether you were just involved in a car accident or several days or weeks have passed, our law firm is ready to provide you with the personalized guidance and representation you need. Do not wait to contact our law firm—in Georgia, you only have two years from the date of the car accident (with some very limited exceptions) to file your car accident claim.
Handling the Stressful Work for You
After your car accident, the negligent driver's insurance company will put their team of car accident lawyers serving Canton to work in an attempt to minimize the compensation paid to you. Our team has the energy and confidence to take on the toughest adversaries, and we back these words with the experience and knowledge critical to winning your case.
---
Client Testimonial
"I was involved in a car wreck and got hurt. We went to Dustin Davies and he made sure I was taken care of. He made me feel very comfortable and made the process a lot easier! Would highly recommend to any and everyone!"
- Alex C.
---
Our car accident lawyers serving Canton make certain that the details and unique circumstances of your case are properly considered and used to your advantage in every way possible. We do this in order to ensure you experience a high quality of life during and after your recovery.
Get Started on Your Auto Accident Case Today
Many injuries due to car accidents present problems of accurate diagnosis as well as short-term and long-term treatment. Injuries resulting from car accidents are sometimes not immediately apparent, so recovering the full cost of your future treatment or disabilities becomes challenging. Your car accident lawyer in Canton from Hasty Pope, LLP will work hard to recover full damages through trial or settlement. Our track record of success speaks for itself.
Let us start to build your auto accident case today. Hasty Pope, LLP can help you obtain just and fair financial compensation for your injuries or for the death of a loved one. Let us investigate your situation and talk to you about how we can work on your behalf.
Related Reading:
Expectations Exceeded - Brian and Sheryl

Simply the best - Christine Chester

Absolutely satisfied with the way were treated - Michael Smith

Top notch service - Nicole Smith

Thank you John & Kirsten - Vanessa
$9,000,000 Wrongful Death

Settlement of $9 million in September of 2019. This was for the family of a 20-year-old man struck and killed by a driver who crossed the centerline in Cherokee County, Georgia on May 18, 2018.

$6,000,000 Truck Accident

A tractor-trailer lost control and struck two motorcyclists, both suffered catastrophic injuries.

$5,000,000 Rear-End Accident

A female client was rear-ended at a high rate of speed in Fannin County, Georgia, a county in North Georgia. The negligent driver was following too closely and failed to maintain control of her vehicle.

$2,800,000 Dental Malpractice

A woman sustained permanent injury to her mouth and teeth as result of dental work performed below the standard of care by a dentist employed by a large corporate dental chain.

$2,500,000 Intersection Collision

A woman suffered multiple injuries including head trauma, multiple rib fractures, and a collapsed left lung when another car ran a red light and struck her vehicle in West Palm Beach, Fla.

$2,000,000 Intersection Collision

Our 76-year-old client, Sara, was on her way home from the salon. She was driving through an intersection on a green light when a young driver turned in front of her.

$1,735,000 Distracted Driving Accident

Our client was struck and killed on I-985 in Hall County, Georgia. Our client had pulled off I-985 to secure his load and was outside all lanes of travel.

$1,700,000 T-Bone Collision

A woman suffered permanent injury to her dominant arm after being involved in a collision at Davis Drive and Mansell Road in Alpharetta, Georgia.

$1,650,000 Accident on MARTA Bus

Our client sustained an injury in an accident in which the wheelchair ramp of a MARTA bus closed on her foot in 2016.

$1,300,000 Motor Vehicle Accidents

A 49 year-old was injured when a driver ran a red light causing a collision. The client suffered injuries to his head, face, neck, shoulder, and knee requiring multiple surgeries and procedures.