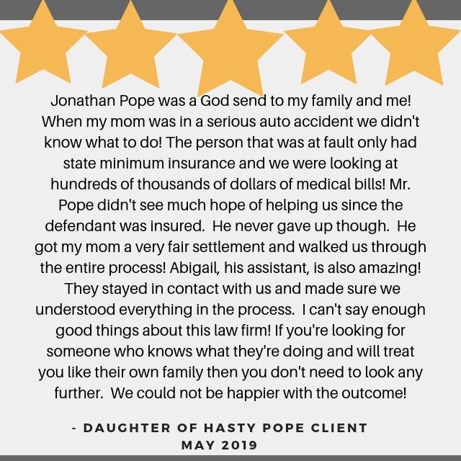 Our 76-year-old client, Sara, was on her way home from the salon. She was driving through an intersection on a green light when a young driver turned in front of her. Sara had no time to react and struck the young man's vehicle at 45 mph. The young man was not injured.
Sara suffered devastating, life-altering injuries:
Multiple broken bones in her foot, ankle and lower leg.
Ten rib fractures.
A broken collarbone.
A broken sternum.
A bruised lung.
Sara underwent six surgeries; the final surgery fused the bones in her foot with her ankle. After surgery, Sara lived in a rehab facility for two months. It was difficult for her to spend the night away from her husband. Before the collision, Sara had recently retired from her job of twenty-five years. Sara and her husband were looking forward to spending their retirement years together travelling.
Now, Sara is unable to stand or walk without the aid of a walker. She requires help from her husband and daughter for ordinary daily tasks, like cooking, cleaning, driving or even moving from room to room in her home. Sara now uses a walker. Even with the walker, she can only stand for a few minutes at a time and is only able to walk a short distance. Sara has lost her independence and worries about being a burden to her family
In Georgia, drivers are only required to have a $25,000.00 insurance policy to drive a car. The young driver who hit Sara only had a $25,000 policy. When Sara came to Hasty Pope, LLP, she had asked the insurance company for the $25,000.00 insurance policy and they did not give it to her.
Sara came to Hasty Pope, LLP with a ton of needs and little hope. We fought for Sara. We determined the insurance company did not follow Georgia law and acted in bad faith. In the end, we were able to make the insurance company pay Sara $2,000,000.00.
Money will not heal Sara's injuries, take away her pain, or restore her independence. It can pay for Sara to have a new shower with a seat instead of her using her walker in the shower. It can pay to widen the doors in her home so her wheelchair will fit, allowing her to safely go from one room to another. It can pay for a handicap ramp so it does not take her 20 minutes to get in and out of her home. It can pay to lower the counters in her kitchen so she can cook for her family. And maybe it will allow her to do something she enjoys, to travel.
In this case, money will provide a better life for Sara. We're proud we could help.